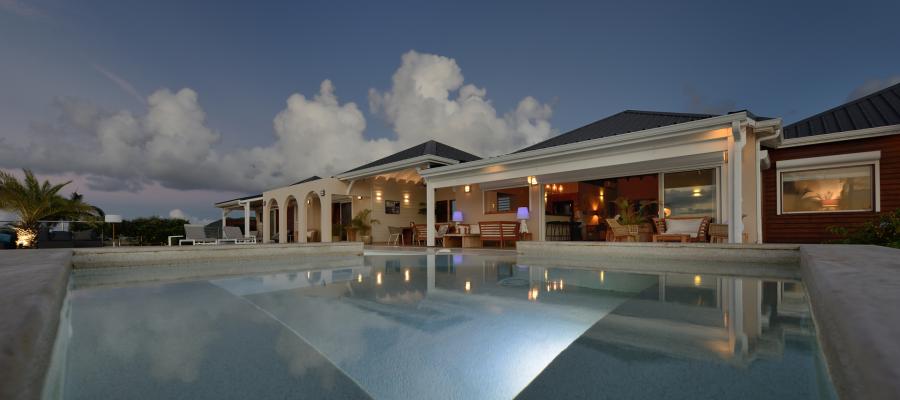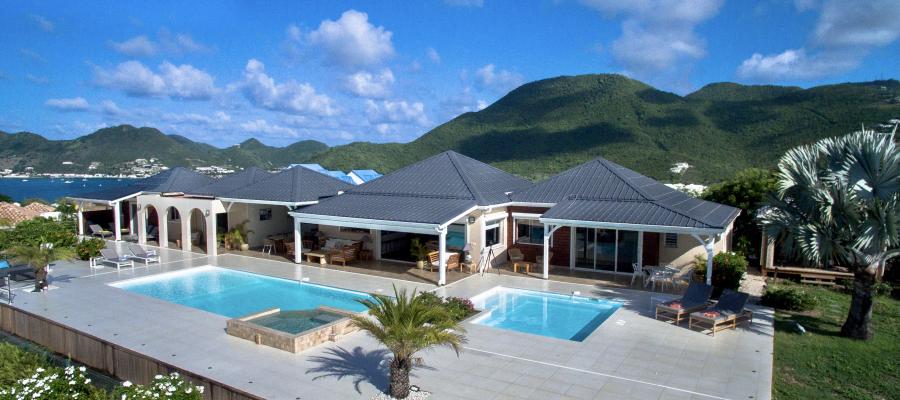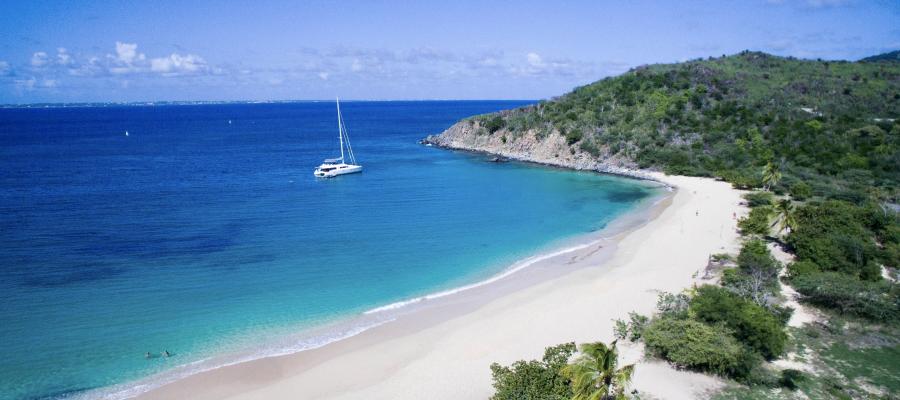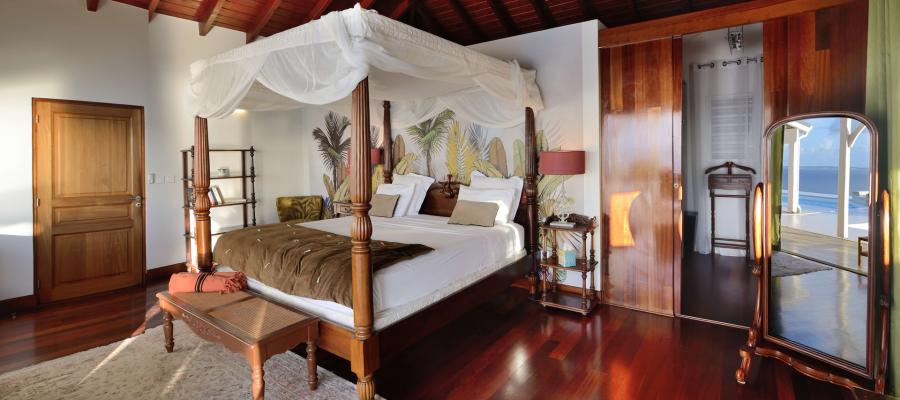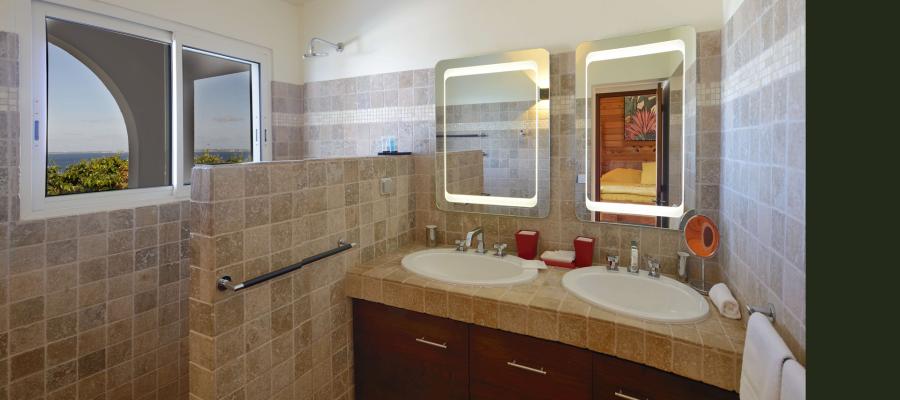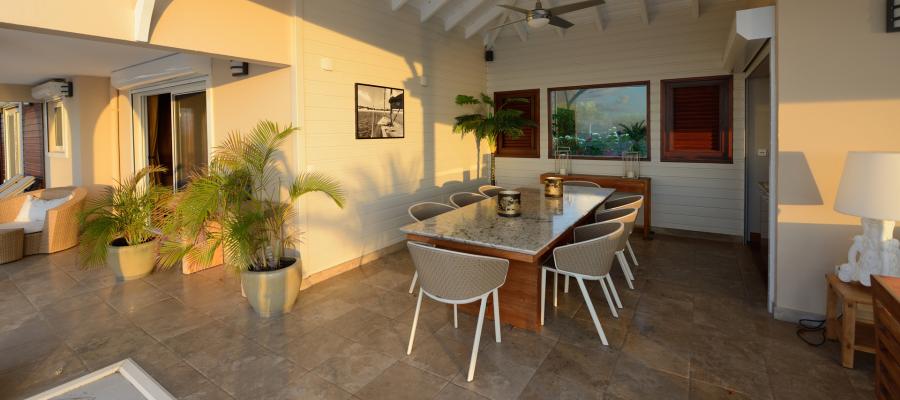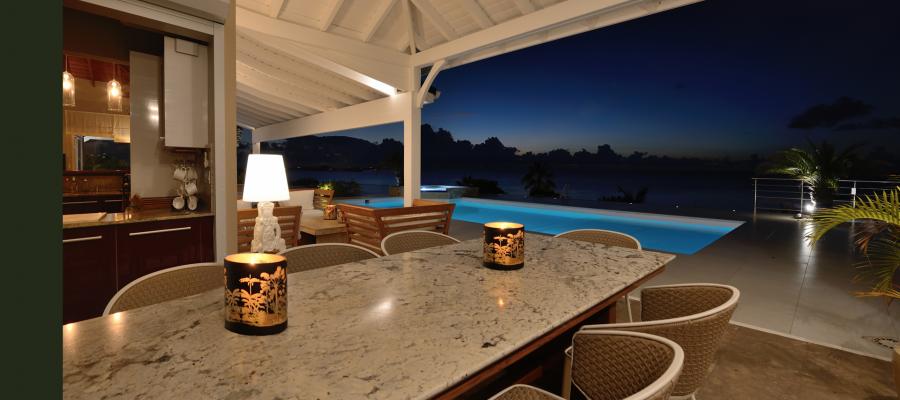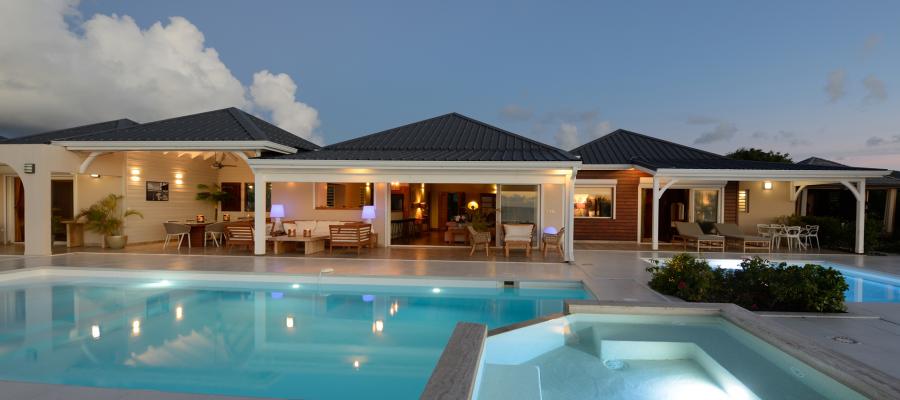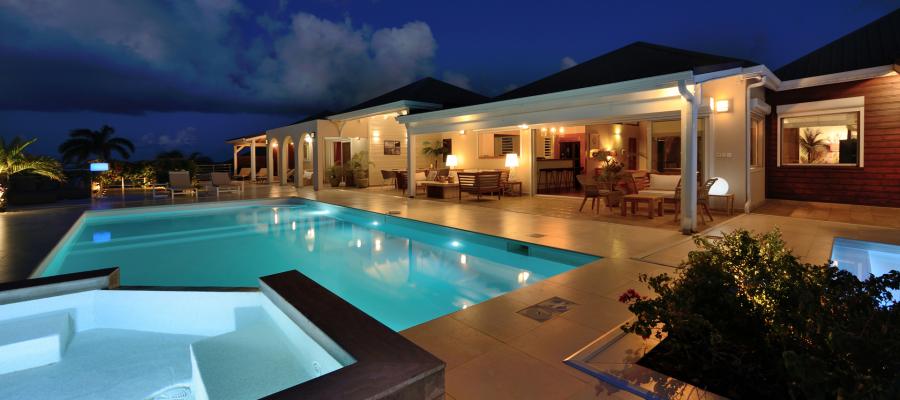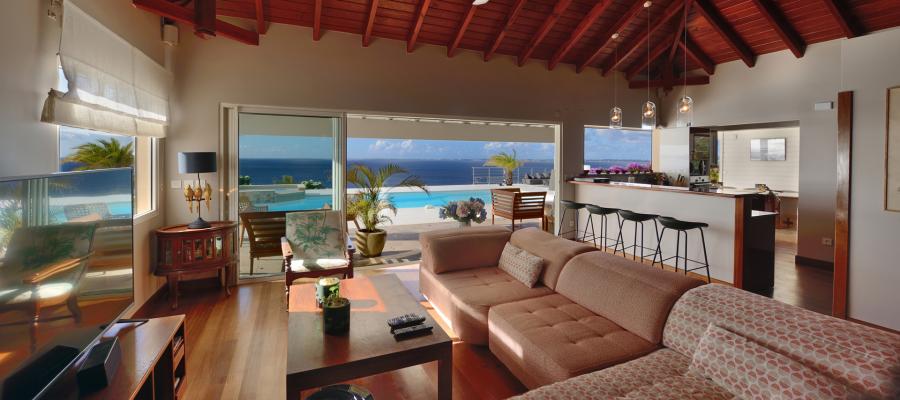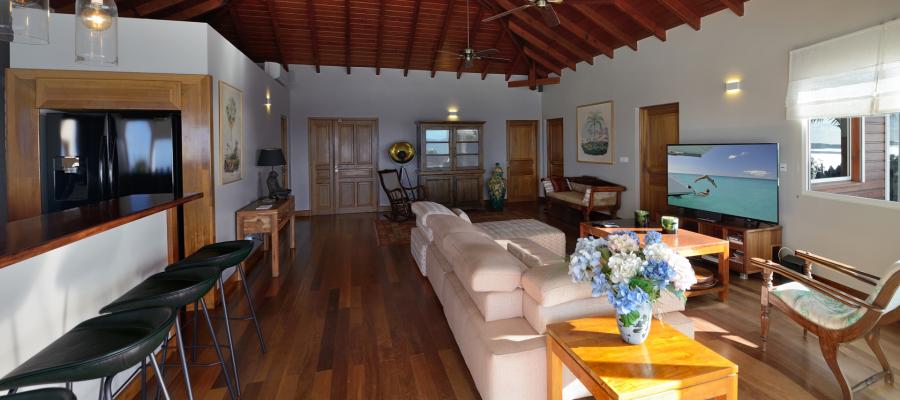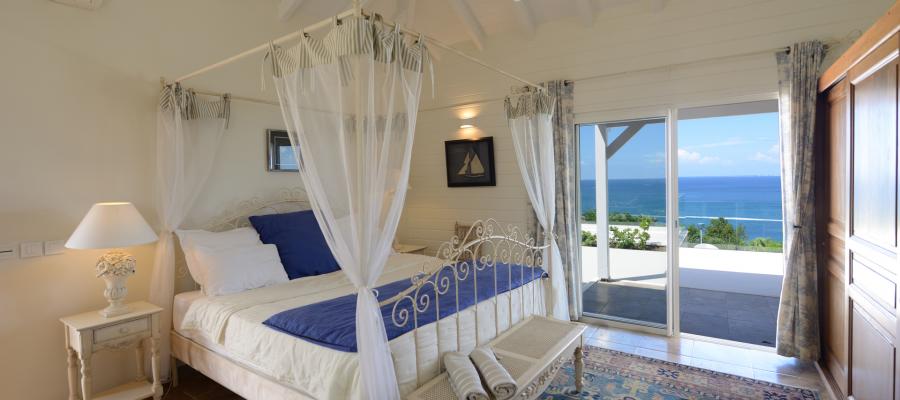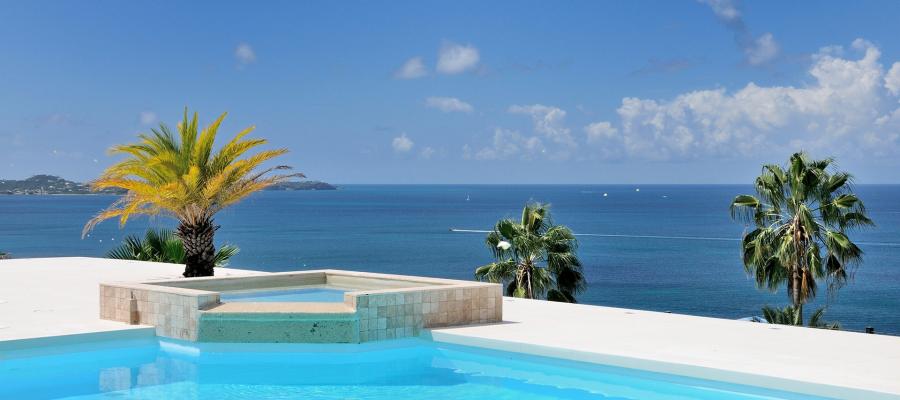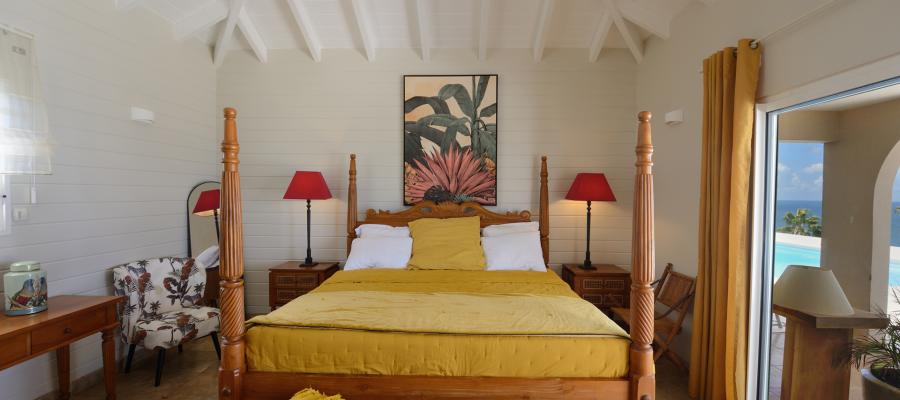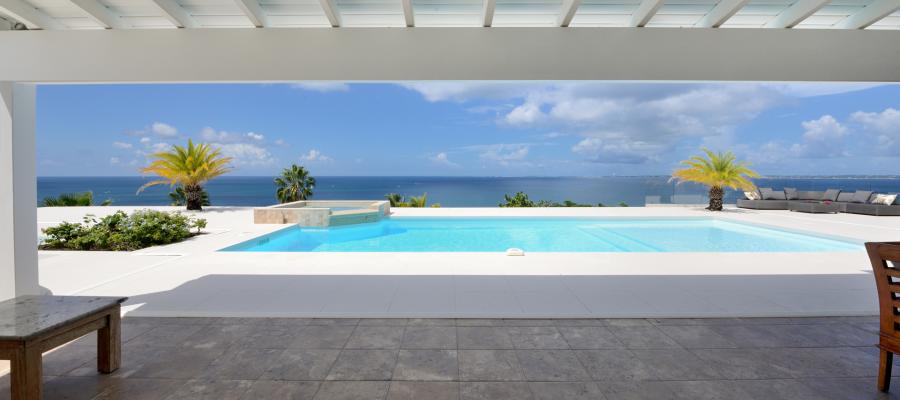 St.Martin Vacation Villa Rental, private vacation rental, Villa Dream In Blue available for Vacation Rentals on Caribbean Island St.Martin
Villa Dream in Blue
Deluxe vacation villa rental in St.Martin Saint-Martin island - in the Caribbean - 4 bedrooms
Dream in Blue is THE VIEW :
This exceptional, luxurious 4 bedrooms villa, offers the most beautiful views on the island of Saint Martin.
From all sides, the eye sees nothing but the sea:
Varying shades of blue, turquoise, morning ultra marines, glowing red sunsets… every hour of the day has its own palette of colours…
The villa " Dream in Blue" overlooks the tranquil beach of Happy Bay on one side, the developed shoreline of Friar's Bay, with its famous beach restaurants, on the other, and the bay of Grand Case, in the distance.
The first two beaches are accessible on foot with a 5-minute stroll along a private path..
Having entered the gate to villa "Dream in Blue", an old paved road leading to the house meanders through beds of exotic flowers.
The villa "Dream in Blue" and its terrace are spread over 6,500 square feet, set in 30,000 square feet of fenced and protected parkland.
The house and terraces measure 659m² all told.
An immense terrace, two swimming pools (the pools are heated for those who are squeamish about cold water!) and a Jacuzzi overlook the sea.
Around sunset, heady scents of jasmine around the Jacuzzi entice one to have a drink on the terrace…
The serenity of the place is enhanced by the gentle sounds of a waterfall splashing on lapis lazuli stone.
The house is surrounded by an "anti-mosquito " fence that keeps the mosquitoes at bay by diffusing an organic product with a delicate perfume.
THE LIVING ROOM AND MASTER BEDROOM are stylishly decorated, with exotic hardwood flooring, walls with antique patinas, and colourful touches of "Venetian stucco" in fashionable shades.
THE KITCHEN
And the scullery are fully equipped and open on to a pleasantly ventilated dining area on one side, and on to the living room through a bar area on the other side:
 THE 4 BEDROOMS
Are spacious and tastefully decorated.
Three of the bedrooms have a king size bed, cupboards, direct access to the pools and a stunning view of the sea.
The fourth bedroom has two twin size beds that can be joined together to make a 1,8m bed.
It adjoins the master bedroom, making it an ideal children's bedroom.
It opens onto a very private, beautifully decorated terrace with flowers, and has a gorgeous view of the sea and the mountains.
 
More..
Broadband Internet wi-fi all around the villa.
Two rooms (the 2nd and 3rd) have their own private entrance - for "night owls"!
The house has the advantage of a permanent caretaker who lives on the property with his own private entrance.
Gated Community
All these services, the stunning view and the unforgettable sunsets, make this a truly exceptional house for sophisticated guests. Certainly, it is one of the most beautiful properties on Saint Martin.